A school bus is shown in Rancho Bernardo, Calif. on May 12, 2016. REUTERS/Mike Blake (Mike Blake/Reuters)
By Valerie Strauss
December 6 at 7:00 AM
The big story in education in 2018? The teachers strikes, hands down. And they aren't over.
Teachers in Los Angeles public schools, the second-largest district in the country, are eyeing a January strike if no contract agreement is reached — and things aren't looking good on that score.
Such an action would continue the movement that started in 2018 when educators in more than half a dozen red and swing states walked off the job, disgusted with low salaries and inadequate resources in their schools. And this week saw the start of the first strike of teachers at a U.S. charter school network, now taking place in Chicago.
Leaders of United Teachers Los Angeles are preparing for a strike if their demands are not met. The union is asking for a pay raise of 6.5 percent; more funding for schools; a boost in the number of counselors, nurses, social workers and librarians; more accountability for charter schools (which are publicly funded but privately operated); a reduction in standardized testing; and an expansion of community schools.
The school system, which is led by Superintendent Austin Beutner — a former investment banker who the union says is intent on privatizing the public education system — has said it cannot afford to meet the teachers' demands.
Union members authorized a strike in August if no agreement on a contract could be reached, and things aren't looking promising. The union is planning a "March for Public Education," starting at Los Angeles City Hall, on Dec. 15, and eyeing the first half of January as the time to start a strike should the impasse continue.
The district, with more than 640,000 students, goes on holiday recess Dec. 17 and doesn't reopen until Jan. 7.
Beutner is working on a plan to restructure the school system by creating 32 networks of schools, which would be overseen by regional headquarters, according to this Los Angeles Times story. The district's central office would be slashed.
While details of the plan have not been released, the Times reported that work on the project is being done by consulting firms paid for by the Fund for Equity and Excellence, a recently created organization funded by wealthy philanthropists who want to change public education. The donors include the foundation of Eli Broad, a housing and insurance tycoon who tried several years ago to push a campaign to raise almost $500 million to open enough charter schools to enroll nearly half the Los Angeles school district's students.
This year, teachers struck in West Virginia, Oklahoma, Kentucky, Colorado, Arizona, North Carolina and Washington.
Meanwhile, in Virginia, teachers are planning to stage a march in Richmond, the state capital, on Jan. 28 to protest school funding cuts and low wages.
In Texas, teachers seeking higher pay and more school resources are planning a mobilization in Austin, the state capital, in 2019. Louis Malfaro, president of the Texas American Federation of Teachers, told the Houston Chronicle that there is support among some of his union members for a strike about the time the legislature convenes in the spring.
And in Oklahoma, teachers could stage another strike in 2019 if the state legislature does not provide enough money for public schools, this editorial in the Oklahoman predicts.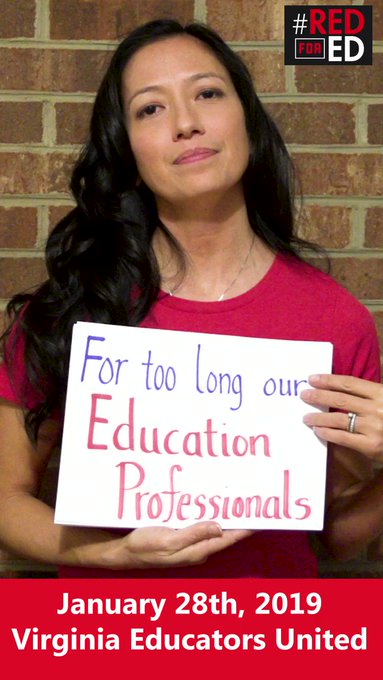 JOIN THE MOVEMENT #iBELIEVE