The Baltimore City Public Schools Board Meeting on Tuesday was packed with people who wanted to voice their concerns about the frigid classroom temperatures many students were forced to endure last week, along with a host of other complaints about the condition of their schools. Community advocates and activists encouraged parents and concerned members of the community to come to the board meeting and speak up about these persistent problems in Baltimore schools.
Cristina Dunkin Evans, a teacher who has worked in the district for over a decade and is a member of Baltimore Teachers Union, said the district has not historically advocated well for itself.
"The mayor is not our friend. The governor is not our friend. And the unwillingness to push and call for what we need and what our students deserve needs to stop because it's just not working… We also need you to do immediate things right now. We need a temperature threshold. We need a clear policy about communication. What information can parents expect to know? We need to give principals the autonomy to act quickly when students' safety is endangered," she said.
Dunkin Evans added that she has heat now but the heater is so loud students can't hear her teach.
"When we talk about heat, that is the bare minimum for an instructional environment," she added.
Last week, some schools had temperatures around 40 degrees inside classrooms and students wore winter coats, hats, and gloves inside. As a result of some of these facilities problems, Baltimore City Public Schools closed a few schools on Tuesday and Wednesday. On Thursday and Friday, BCPS closed all of the schools. Although most of the schools opened this week, there were still many closures continuing into this week.
As photos of students in coats and videos of children telling adults they were cold spread on social media, the national media covered the story of Baltimore's frigid classrooms and the outrage surrounding it. Aaron Maybin, a former NFL linebacker who now runs a foundation that supports student artwork in Baltimore, spoke to Baltimore students on Wednesday about school conditions.
"I'm super super cold!" shouted one student.
Baltimore Teachers Union President Marietta English wrote a letter to the Baltimore County Public Schools (BCPS) CEO Sonja Brookins Santelises saying that the school conditions were "inhumane."
One of the groups encouraging parents to come to the meeting was Not Without Black Women, which describes itself as a "movement of everyday black women" that does mentoring, community service, and political advocacy. Not Without Black Women brought attention to the board meeting on Facebook. The founding director of the group, Brittany Oliver, said frigid classrooms have been a persistent problem in Baltimore schools, and are just one of many examples of poor school conditions and resources for students that she called human rights issues.
"I'm 29 years old and I attended Baltimore City Public schools as a kid," Oliver told ThinkProgress. "These schools are the same. It's a structural problem. This problem is not some isolated thing… How am I almost 30 years old and the same issues are happening?"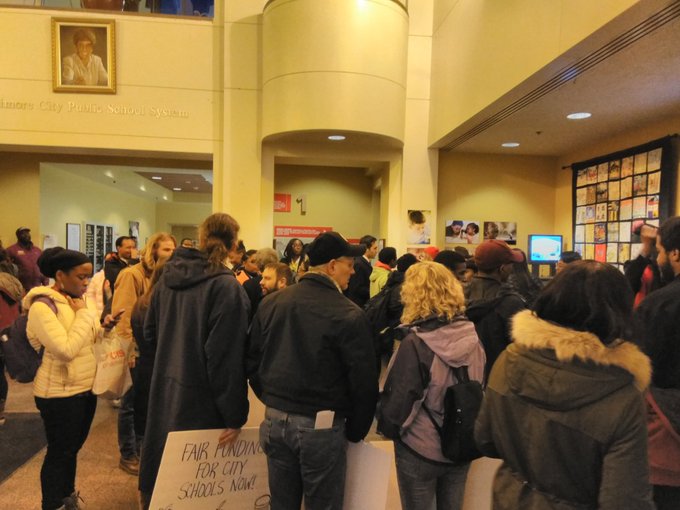 Then the blame game began in earnest. As national media attention picked up, Gov. Larry Hogan (R) released a statement that said the governor would work closely with school leaders but that "individual school facility decisions are ultimately made at the city level."
Lt. Gov. Boyd Rutherford tweeted that "the money is not reaching the classroom" and said people should ask the school district why.
Since then, politicians and Baltimore officials have taken additional steps to acknowledge the heating problem. On Monday, Hogan announced $2.5 million in emergency funding to help improve heating in schools. The funding came from the state's  "catastrophic event" account. That same day, Hogan said there should be an "investigator general" to look into corruption allegations against school officials.
Baltimore Mayor Catherine Pugh also marshaled emergency contractors, city agencies, and private companies to fix many of the school buildings, according toWBALTV.  Mayor Pugh will meet with Hogan on Wednesday.
"What we started to see was politicians pointing fingers at each other, back and forth, 'Oh no, it's not the state, you know, it's the city council and it's this person or this person. It was like ping pong," Oliver said.
Although some measures have been taken by the governor and mayor, Oliver said the issue is bigger than school heating and that there needs to be better transparency and accountability in Baltimore schools. Oliver said there is a lot of blame to go around for school conditions.
"I think everybody needs to take a hard look in the mirror: the city council, different officials, activists, advocates, and people who say they represent the community. It's very easy to call for accountability but not call for that in your own space," Oliver said. "There are a number of key players that make this issue an issue. Because Baltimore is a predominantly black city, I think there is structural racism and black and brown kids are neglected."
Packed school board meeting about to start after outrage over heat-related closures in Baltimore City schools @cbsbaltimore #education
Parents, activists, and teachers spoke out at Tuesday night's school board meeting.
Kim Trueheart, a community activist, admonished Hogan. "We have issues here to discuss and I'm going to point fingers at Gov. Larry Hogan in Annapolis. We are one of the poorest jurisdictions in the state of Maryland and we depend on state funding whether you like it or not," she said.
Trueheart added, "Don't be sending us a stupid little $2.3 million check when you rescinded over $65 million in projects. I want a check in Baltimore City this week for 65 friggin million dollars. You're not going to let us have to sit here and have to patchwork the problems that have existed since your time in office and everyone before you."
Cheryl Jones said that organizing to improve Baltimore public schools needs to be a collective effort. She encouraged parents and community members to learn more about what is going on at the school district and in state government.
"Shame on us that is even an option to have children of Baltimore to be in this current situation… Knowing is half the battle and we are leaving our babies ill-equipped for the war," Jones said.
Khalilah Harris, the former deputy director for the White House Initiative on Educational Excellence for African Americans during the Obama administration, encouraged people to become involved in a grassroots coalition to come up with a plan for educational equity in Baltimore. Harris added that there is little accountability for school board members.
"Meetings are nice but action is better," she said. "We sit here in front of an unelected school board. There is no accountability. We are disenfranchised as it relates to accountability for how our children are raised with you every single day."
During the meeting, a parent interrupted board members before publication comment and said these poor conditions have been going on for too long. She called it a "tragedy."
Oliver said that since many Baltimore parents are busy trying to feed their kids and keep a roof over their head, they may not have time to keep up-to-date on what is happening at the school, so Oliver considers her and her organization's goal to keep parents informed and mobilized. Before the board meeting began, Not Without Black Women and Black Girls Vote worked together to register people to vote.
"The legislative session starts this week, so we want to register to vote and realize if officials are not doing what they are supposed to do, you have a voice," Oliver said.
CORRECTION: In an earlier version of this story, a teacher identified themselves as part of the Baltimore Movement of Rank-and-File Educators, a caucus of the Baltimore Teachers Union. The BTU said there is no such caucus within the BTU.
JOIN THE MOVEMENT #iBELIEVE