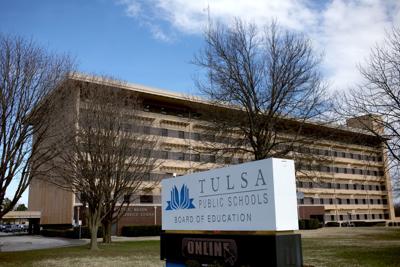 The Oklahoma State Department of Education is requiring Tulsa Public Schools to make a sweeping review of records for all of its 7,000-plus special education students after a parent's formal complaint revealed that the district is not complying with basic requirements for how students with disabilities must be served.
"My goal wasn't to get TPS in trouble but to raise the issue up to a higher body," said Carmon Pool Drummond, the mother of three TPS students who went to the state after encountering what she described as a complete lack of awareness of the basic federal rights and requirements for special education students at Edison Preparatory School when her son began high school last fall.
"I know it's wrong, but the teachers don't know it's wrong. None of them in that meeting understood what they were doing was wrong — they weren't trying to hide it. It was just the way they operate. That's a failure of the district."
Under the federal Individuals with Disabilities Education Act, or IDEA, teams of educators and parents must develop a written plan for each public school student eligible for special education.
This Individualized Education Program, or IEP, is to include measurable annual goals, including academic and functional goals, based on each student's unique needs.
But in investigating, state officials found that the same generic goals were being used for the vast majority of students at the site. These included: "Students will read and comprehend increasingly complex literary and informational texts."
State officials also raised a red flag when they learned from school faculty members that the frequency of student progress reports was "predetermined," rather than on an as-needed, individualized basis.
The state's finding that Tulsa Public Schools is in "noncompliance" with federal law means TPS must now complete a series of corrective actions dictated and monitored by the state on an ongoing basis, said Todd Loftin, the state's executive director of special education services.
Those include a review of every special education student's IEP goals by the end of this month and the development and implementation of a plan to correct all newly discovered noncompliance in the area of student goals and student progress reports by the end of May.
Additionally, the district will have to train all of its special education staff in how to create individualized goals for students by Aug. 30.
"We don't get a lot of complaints like this," said Loftin. "Our monitoring can get very close to touching your (federal special education) funds and having those pulled back or controlled by us. We are required to report all of this information to the (federal) Office of Special Education Programs. It is very serious."
Loftin said the state is dedicating more resources, including online options, for training school personnel because public school conditions in the state are ripe for problems.
"We know there is a lot of work we need to do on this around the state. It's (teacher) turnover, lack of special education teachers and time in the day," he said. "A lot of people see them as a paperwork problem, but the IEP is not just paperwork. This is a real program, and this is what we've determined is in the child's real, best interest."
Tulsa Public Schools' new district-level leader for special education was a principal before. She said she quickly discovered significant needs for across-the-board training when she began in her new role in July.
"We knew we had some gaps in our training as we looked at IEPs," said Robin Emerson, TPS director of site-based services for exceptional student support. "We have pockets of teachers who do well in creating those goals for students, and then we have pockets of teachers not expanding those goals. Unfortunately, the practices that happen in (school) buildings we are working really hard to address. We know if this is happening at one school, we're pretty sure we have a pretty wide discrepancy."
Emerson and Danielle Neves, deputy chief of academics at TPS, said they have already prioritized school site-based training for special education compliance workers who had been doing other administrative tasks the last few years.
"We know that we have gaps. We started working on them in July," said Emerson. "We aren't making changes just because of the complaint. We are making changes because it's what's right for kids. The complaint just magnifies the scope of the work."
As for Drummond, she said she is still troubled by the lack of awareness at TPS of readily available resources that the U.S. Department of Education offers free to schools for children with reading disabilities like her son's. She said she was also recently told TPS has no way to measure a high school student's reading level, despite the federal requirement for measurable goals.
But she feels she accomplished what she set out to do by going to the state.
"As a parent, I felt like I could fight it and fix it for my kid or I could fight it in a way that would help other kids," Drummond said.
"You believe the teacher knows best and that they're going to do right by your child. I know a lot of parents who say, 'I like my child's teacher and I trust them.'
"You have to advocate for your own child. You have to educate yourself so you can stand up to people you think have the knowledge and know better than you — because I don't think that's always the case."
JOIN THE MOVEMENT #iBELIEVE