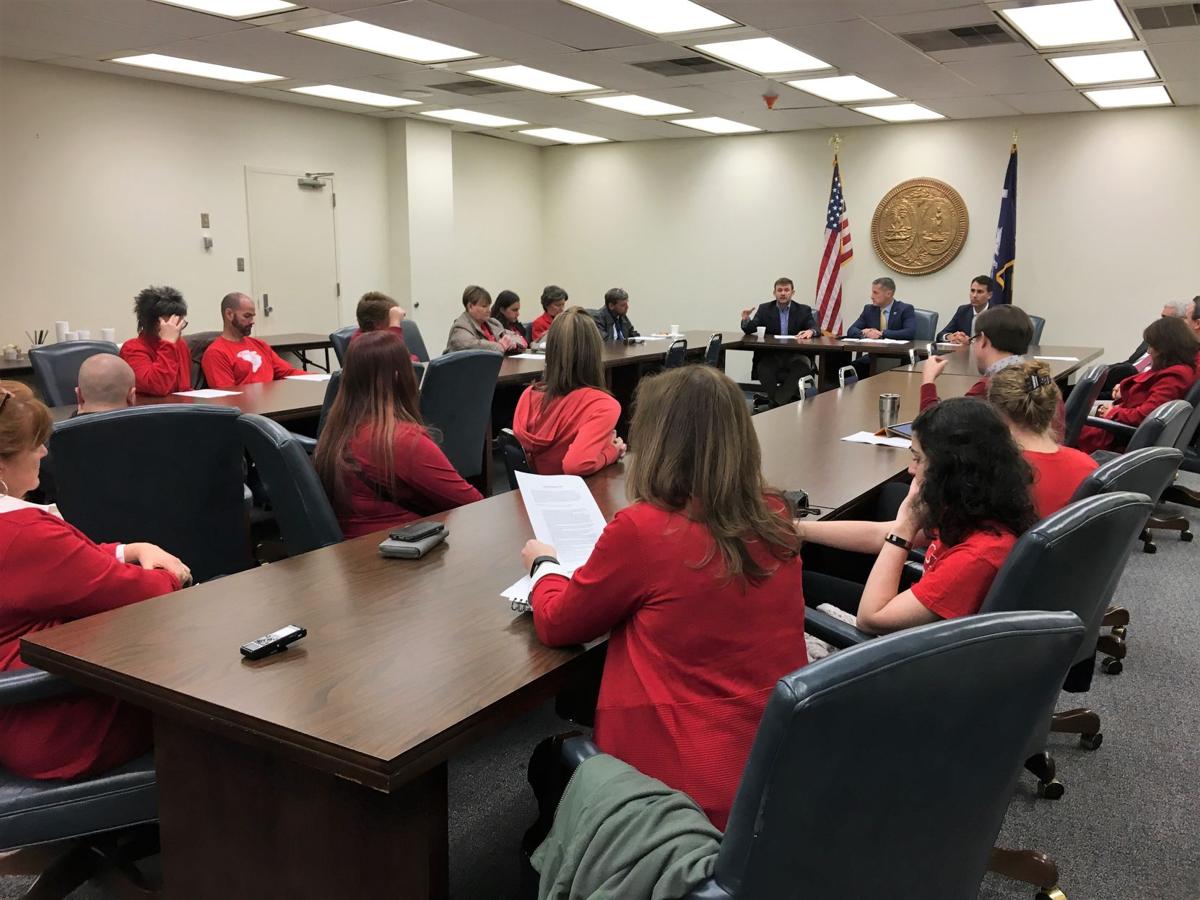 COLUMBIA — South Carolina teachers are so frustrated by low pay and disrespect, an organized strike could be imminent, even without a union, teachers are warning legislators.
Several dozen teachers from nine counties took personal time off Wednesday so they could advocate for public education at the Statehouse ahead of the legislative session that starts Jan. 8. They want higher salaries and better overall funding for K-12 schools.
Earlier this year, a nine-day teacher walkout in West Virginia led to a 5 percent pay hike. That fueled demonstrations across the nation, including in Kentucky, where the GOP-dominated Legislature overrode the Republican governor's veto of education funding increases.
In South Carolina, teachers rallied on Statehouse grounds on a Saturday in May — after the legislative session ended. A 5 percent boost in the Palmetto State would bring teachers to the Southeastern average — something state law has called for since 1984.
Calls for education reform have intensified in the wake of The Post and Courier's "Minimally Adequate" series, which lays out how gaping disparities, widespread segregation and a history of low expectations have helped make South Carolina's public school system one of the nation's worst and left thousands of students unprepared for college or work after high school.
"There are other states just as conservative as South Carolina where teachers have walked out and gotten what they wanted. We're not that far off," said Tim Monreal, among 10 teachers from Lexington 1, considered one of the state's best-performing and wealthiest districts.
"If people in Lex 1 are upset and willing to take time off … this could happen," said Monreal, who teaches social studies at Lexington Middle. "There are teachers here from schools you'd never think would walk out, and we're darn close."
While there are teacher advocacy groups in South Carolina, there is no union. State law forbids collective bargaining rights for public employees.
But they began mobilizing through social media earlier this year. SC for Ed, which organized Wednesday's meeting with a trio of House members, has grown to more than 19,000 members. Statewide, there are more than 50,000 teachers.
The teachers said they want to avoid a walk out, but they may have no other choice.
The state has already seen a de facto mass walk out, as thousands of teachers flee the profession yearly, but that hasn't gotten legislators' attention, one teacher said.
Rep. Chris Wooten, R-Lexington, encouraged teachers to contact legislators and advocate for the changes they want.
"This has to come from you," he said. "I think you have that momentum. I'd like to see that momentum snowball."
Legislators pushing for reform include House Speaker Jay Lucas, R-Hartsville, who told the chamber during last week's organizational meeting that children's futures demand immediate action.
"That is a big deal," Rep. Russell Ott, D-St. Matthews, said about Lucas' comments from the podium.
"I get your frustration," but change is in the works, Ott told the teachers. "I don't want our kids to not have their teachers in the classroom because they felt they had no other option but to not come to school that day."
The group included a dozen teachers from Dorchester 2 (Summerville). Unlike in other districts where teachers fear for their jobs for speaking out, Dorchester 2 leaders support teachers advocating for themselves, said Mary Rita Watson, a reading intervention teacher at Oakbrook Elementary.
"The movement is here, and we've got to take advantage of it. We are going to be the squeakiest wheel in all of South Carolina," she said. "There are thousands of us. Where this may not look like a lot of people, a lot are involved."
join The Movement #iBELIEVE