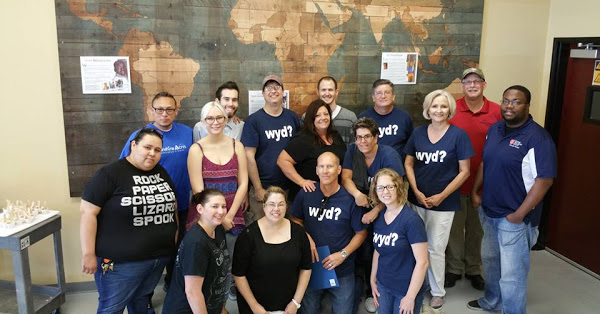 June 18, 2018
Gov. Doug Ducey promised potential teachers the moon: debt-free college, as long as they stayed to teach in Arizona.
The academy was a prominent part of Ducey's 2017 agenda, announced in that year's State of the State address. It was designed to help address a continuing teacher shortage that leaves thousands of students without qualified teachers in their classrooms.
"I'm looking for the best and brightest to commit to teach in Arizona public schools," Ducey said then. "If you make that commitment, we'll make this commitment: Your education will be paid for, a job will be waiting and you will be free of debt."
To most, it sounded like a promise of a free four-year education for all future teachers.
But the program doesn't yet live up to Ducey's lofty goal.
So far, students enrolled in teaching programs at the three state universities won't get four years of free school — at most, it's two. It's not for every student who wants to be a teacher, but instead focuses on specific programs.
And the universities may not have a way to ensure their graduates stay in Arizona to teach or pay back scholarships they received if they leave. That means the state could pay for college for students who don't meet their end of the deal.
Still, the Arizona Teachers Academy is showing early signs of success, with an enrollment of more than 200 students in the first year and the hopes to more than double that in the coming school year.
But only juniors and seniors can access the academy at Arizona State University and Northern Arizona University. At University of Arizona, it's a one-year master's program.
A new report from the Arizona Board of Regents shows the three schools served 221 students in the academy's first year.
Most of those students already were enrolled in teacher training programs at the universities, meaning the academy won't yet add more teachers to Arizona classrooms than would ordinarily graduate with education degrees.
Interest in the program has outweighed the resources available to expand it. The schools need added support, in money and staff, to meet the demand.
Ducey spokesman Daniel Scarpinato said the governor is "on the path" to fulfilling his promise of debt-free college for people who want to teach in Arizona.
"This was the first year," Scarpinato said. "We think that there has been real success."
Scarpinato acknowledged that the academy doesn't yet deliver with four years of debt-free schooling, but said the governor and the universities share a goal to eventually get to a four-year program.
An unfunded mandate from the start
The academy, and its celebratory rollout by Ducey, didn't come with funding.
Instead, the universities have bootstrapped funds quickly to fulfill Ducey's mandate. In the first year, the schools estimated each student cost $4,500, totaling about $1 million.
For the 2018-19 school year, the universities expect to enroll 478 students, which would cost about $2.2 million, the regents' report said.
The schools plan to have more than 600 students in the academy by the 2020-21 school year.
Carole Basile, dean of ASU's Mary Lou Fulton Teachers College, said the first year focused more on retaining existing students than recruiting new ones.
ASU's academy focuses on juniors and seniors. In its second year, the program will have a waiting list, she said.
"We made the decision that it would only be up to two years," Basile said. "It's not affordable, frankly, at four years for us."
The programs at all three schools have recruited and retained students, and they expect to recruit even more this coming school year. There's a lot of interest, but a lack of funding from the state to meet that interest.
"With dedicated funding from the state, the academy's expansion can be expedited," board documents say.
Scarpinato said the governor's office will put forward more money to help the universities enlarge the programs.
"It's working," Scarpinato said, "so this is definitely an area that the governor wants to invest in and a priority that he wants to expand."
He wouldn't say how much money the governor will add to the program or when. But he said when Ducey is considering places to allocate state money, "this is going to be right up at the top of the list."
How the teachers academy works
At ASU, juniors and seniors can apply to join the academy. ASU will cover tuition and fees for up to two years, as long as students maintain a 3.0 grade-point average.
In return, recipients at ASU agree to teach at a Title 1 school in Arizona for the amount of time they received a scholarship, plus one year. So students who receive one-year academy scholarships would need to teach at a Title 1 school here for two years.
Title 1 schools have a high percentage of students from low-income households.
At NAU, juniors and seniors also can apply for the academy. The program connects with schools in high-demand areas for teachers like rural and low-income communities. Students take classes taught by NAU professors at local sites in Kingman, Show Low, Tuba City or South Phoenix.
The idea is to "grow your own" teachers who are already invested in local communities and live there, said Ramona Mellott, the dean of NAU's College of Education. Most of the students come to NAU from community college feeder programs, she said.
"We're really proud of the fact that we're going in areas where it's even more difficult to get teachers," she said.
UA's teacher academy doesn't fit the traditional four-year model. It's a one-year master's program in which students can specialize in secondary education or education of people with mild to moderate disabilities.
The program runs from May to May. Fifteen people received academy scholarships the first year, while the second year will have 28, said Renee Clift, the associate dean of UA's College of Education.
The school chose a master's program based on data it collected that suggested master's graduates from these programs tended to stay in Arizona, Clift said.
Plus, a one-year program allowed the school to immediately monitor the program's success, she said. And the state needs special education and high school teachers, which the master's program creates, she said.
Some of the program's students are career-changers, people who are going back to school to become teachers after working in another field, while others graduated with specialties in other areas then sought out a teaching credential, she said.
What if teachers don't stay in Arizona?
The Legislature and Ducey didn't create a way to track the academies' graduates and ensure they teach in Arizona as long as their scholarship requires.
The 2017 budget bill that created the academy says if students don't teach for a full school year in Arizona, they have to reimburse the university. If students are physically or mentally unable to complete the academy requirements, the university will assess the ability of those students to repay and determine repayment terms.
But the bill doesn't say how to manage the tracking of students after graduation or repaying of money.
The Arizona Board of Regents mentions the tracking of "service obligations" in board documents, saying universities reported the issue as one of their primary needs to ensure the teachers academy's long-term success.
The state could create a formal way for scholarships given to academy members to be converted to loans, which could then be collected through an agency if program graduates don't meet the terms of the agreement to stay in Arizona and teach, documents from the regents say.
Join the Movement #iBelieve