'Rolling Blackouts'
MARY SCOTT HODGIN | NOVEMBER 4, 2020
Deep cleaning at Grantswood Community School because of COVID-19.
A new online dashboard is tracking cases of the coronavirus in Alabama schools. While state education officials are optimistic they can control the spread of the virus, some challenges remain. Most schools have already reopened for in-person classes, but some have had to close again as students and staff have tested positive for COVID-19.
Tracking What's Reported
The Alabama State Department of Education, along with the state Department of Public Health, launched the K-12 COVID-19 School Dashboard last week to keep track of reported cases in local school systems.
The webpage displays weekly totals across the state, broken down by district.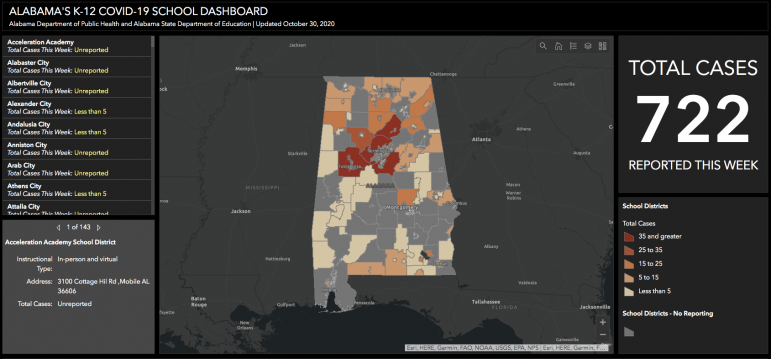 State Schools Superintendent Eric Mackey said the dashboard has two goals.
"One is just full transparency," he said. "But the second one is so people will understand that there is not great prevalence across the state of positive COVID cases in schools."
The tracker currently shows about 720 cases statewide, though roughly 40% of local school systems did not report numbers the first week. Mackey said this is partly due to confusion about reporting requirements. He expects more districts to participate moving forward. The data will update every Friday morning.
Capturing The Full Picture
Suzanne Judd, an epidemiologist with UAB's School of Public Health, said there haven't been widespread outbreaks in schools, but the data is complicated.
"The challenge is that we just don't know whether or not young people are getting tested," Judd said. "So the information on the tracker is not really capturing the full picture of what might be happening."
Judd said because there is no random testing of K-12 students, it is difficult to detect asymptomatic cases. It's up to parents to take their kids to get tested and report any positive results to school administrators.
Nationally, rates are going up. A record number of more than 61,000 kids were diagnosed with COVID-19 last week, according to the American Academy of Pediatrics.
The spike in COVID-19 infections is having a ripple effect on schools, teachers, and students.
'Rolling Blackouts'
West Blocton High School is one of several schools in Alabama that has had to temporarily close its doors and return to virtual-only instruction recently.
West Blocton Principal Terry Lawley said the main issue is finding replacements for staff who are out sick, or at home under quarantine.
"There's only so many people to pull from," Lawley said, "and we've just had a hard time getting specific subs lined up."
It's a problem statewide, prompting some school districts to increase pay rates for substitutes.
Mackey said the difficulty of maintaining distance is a huge challenge to the way schools operate. In places like cafeterias, where staff members work closely together preparing food, Mackey said if one employee gets sick, the whole kitchen might have to shut down, which probably would lead to a school closure.
"We've closed whole schools with hundreds of students because we've had three or four, five positive cases," Mackey said. "In fact, we closed one school because there were two positive cases. But those two people were cafeteria workers."
Mackey said this is likely to keep happening.
"I can assure you it is not going to be better in the next couple of weeks," he said. "We are going to continue to deal with these kinds of rolling blackouts, if you will, where we have school and then we don't have school for a while."
Community Rates Going Back Up
At the same time, public health experts are warning about the rapid spread of COVID-19 throughout Alabama.
In addition to the dashboard, Judd said it would be helpful to implement some kind of randomized testing program in K-12 schools.
"Having that data to understand how many people could potentially be sick, really helps us to inform the interventions that we would use," she said. "But that data is not likely to appear in the next three months. I think we're just going to have to guess and assume that the rates are high."
Judd said that kids are less likely to become seriously ill from COVID-19; but they can pass the virus to others who are more vulnerable, like parents and grandparents.
Looking ahead, she said prevention is key, especially as more kids return to the classroom, indoor sports start back up, and families prepare to gather for the holidays.
JOIN THE MOVEMENT #iBELIEVE